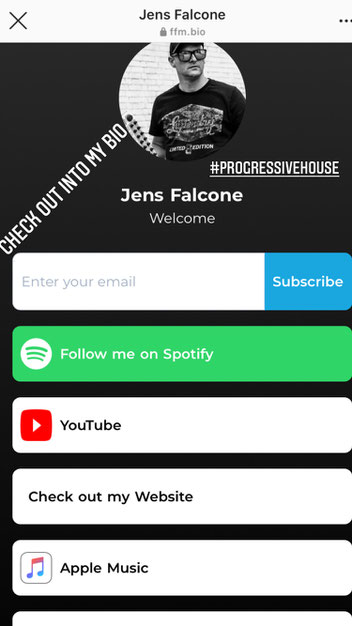 Hallo Leute ,
heute habe ich mal ein tolles Tool mit dem man sich besonders gut vernetzen kann und was auch einfach zu benutzen ist.
Hier ist meine Sozial Media Bio Link ,
obwohl ich in viele Netzwerke tätig bin sollten hier nur die relevantesten sein die ich benutze.
Wenn Dir neben meiner Webseite diese Netzwerke zusagen, dann schliesse dich einfach mir an und wir könne noch aktiver miteinander kommunizieren.
Step 1:
Das Bestätigen der von Cookies ist ganz klar, damit man auch sozusagen als Mensch im Netz erkannt wird.
Step2:
Sozial Media Kanal auswählen und sich damit verknüpfen, es kann sein das du dich anmelden musst bei deinem Account deines Kanals , damit das Tool erkennt das Du dich mit mir verbinden möchtest.
Step3:
So wir sind miteinander verknüpft und du kannst mir gezielter Fragen stellen auf meine Stories oder Videos oder mich Supporten z.B. wenn dir ein Lied, ein Bild oder etwas anderes gefällt .
Du hast jederzeit die Möglichkeit auch wieder zu Entfolgen  wenn dir es zu Langweilig wird , aber bedenke das es immer wieder mal Aktionen und News geben wird.
Ich freue mich von Dir zu hören und ich hoffe Du findest Freude an meiner Musik.
Hi Guys ,
Today I have a great tool with which you can network particularly well and which is also easy to use.
Here is my social media bio link,
although I am active in many networks, only the most relevant ones that I use should be here.
If you like these networks in addition to my website, then just join me and we can communicate more actively with each other.
Step 1:
The confirmation of cookies is very clear, so that you are recognized as a person on the network, so to speak.
Step2:
Select social media channel and connect to it, you may have to log into your account of your channel so that the tool recognizes that you want to connect to me.
Step3:
So we are linked and you can ask me specific questions about my stories or videos or support me e.g. if you like a song, a picture or something else.
You always have the opportunity to unfollow again if you get bored, but keep in mind that there will be promotions and news from time to time.
I am looking forward to hearing from you and I hope you enjoy my music.