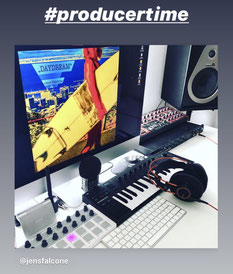 Ich sitze gerade am chakuzi und denke gerade nach was der heutige Blog beinhalten sollte.Ich habe gerade eine richtige schöne schmackhafte italienische Küche genossen, und auch da benötigt man richtig gutes Werkzeug, damit das Essen gelingt. Also wähle ich heute das Thema : "Werkzeuge zum Musik machen".
Wie jeder guter Koch benötigt man Leidenschaft,Übung,Können und Ausdauer als Grundvoraussetzung.Mit den richtigen Instrumenten in meinem Fall Synthesizer, Drummodule, Natural Sounds und Vocals kann man eine Menge machen, was wie nach einem Rezept zusammengefügt wird in einer DAW (Digital Audio Workstation). Mit der richtigen Dosierung und dem feinen Abschmecken wird nach und nach ein Song draus.Der richtige PC ist eine Grundvoraussetzung wie der Backofen oder Herd.Wie die Töpfe beim Koch sind die einzelne Komponenten beim Musiker die  externe Soundkarte , Monitor, Aufnahmegräte, Instrumente echt die den Song nicht anbrennen lassen sondern geschmeidig auf den Teller servieren.
Das Abmischen der Tonspuren eines Songs ist wie das würzen und abschmecken mit Salz und Pfeffer, etwas mehr tiefe im Stereo Bereich ,etwas mehr Equalizer im Mitten Bereich.Noch etwas Herzblut dazu und fertig ist der neue Song.Ach übrigens ich habe mal meine neuen Song "Acid Seure" genannt was ja zum Essen gut passt ;-) LOL.
Dieser Song wurde fertig gemastert und noch gestern zu meinen Favoriten Labels gesendet, wenn es klappt werde ich diesmal ihn nicht selbst Veröffentlichen ,über den Vertrieb ,weil es sich lohnt schon alleine wegen dem Feedback vom Label. Es wird wieder zwei Versionen geben eine Radio und eine für den Club.Auf jeden fall bleibt es spannend und sobald ich was weiss, wie es mit dem Song weiter geht, melde ich mich wieder bei Dir oder du meldest Dich bei mir an über die Newsletter Box oder über einen Social Media Kanal Deiner Wahl, bei mir ist Facebook Jens Falcone Music und Instagram Jens Falcone und Twitter Falcone Jens  und auch Spotify Jens Falcone. 
I'm currently sitting at the chakuzi and I'm thinking about what today's blog should contain. I just enjoyed a really nice and tasty Italian kitchen, and you need really good tools to make the food work. So today I choose the topic: "Tools for making music".
Like any good cook, you need passion, practice, skill and endurance as a basic prerequisite. With the right instruments in my case synthesizers, drum modules, natural sounds and vocals you can do a lot of things that are put together like a recipe in a DAW (digital audio Workstation). With the right dosage and fine taste, it gradually becomes a song. The right PC is a basic requirement like the oven or stove. Like the pots for the cook, the individual components for the musician are the external sound card, monitor, recording devices, instruments Don't let the song burn, but serve it smoothly on the plate.
Mixing the soundtracks of a song is like seasoning and seasoning with salt and pepper, a little more deep in the stereo area, a little more equalizer in the middle area, a little bit of passion and the new song is ready, by the way, I've got my new song Called "acid seure" which goes well with food ;-) LOL.
This song was mastered and sent to my favorite labels yesterday, if it works I won't publish it myself this time, via the sales department, because it's worth it because of the feedback from the label. There will be two versions again, a radio and one for the club. In any case, it will be exciting and as soon as I know what to do with the song, I will contact you again or you will subscribe to me via the newsletter Box or via a social media channel of your choice, with me is Facebook and Instagram and Twitter.