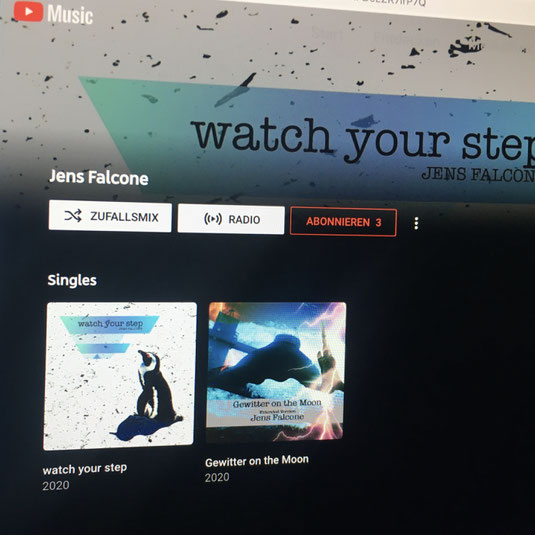 Hi Leute , heute ist wieder einmal Sonntag und das Wetter eher bescheiden.Daher ist es ganz passend das ich jetzt hier mal mein Youtube Kanal für Jens Falcone Music mal aktiviere und mit den bestehenden Social Media Kanäle verknüpfe.
Noch ein Social Media Account?Noch ein Kanal?Warum ist das wichtig?Muß das sein?
Also so wie ich gelesen habe kann man ja sein "Music Kanal Account" als Künstler beanspruchen, siehe hier bei Youtube https://artists.youtube.com/ 
Meine Empfehlung ist es jedoch, das man sich mit der ersten Veröffentlichung ran machen sollte und einen Privaten Account aktivieren sollte.Um dort eine Basis zu haben und die eigenen Lieder dort auch zu promoten, bis man zugelassen wird auf Youtube als Künstler.
Ich werde auch noch ausführlicher Berichten darüber an einer anderen Stelle.
Ich habe hier zum Sharing meine aktuellen Tracks hinzugefügt in einer Playliste https://www.youtube.com/playlist?list=PLxq1pmmXwIx_qvzieEyh9dkrv3Y6lIjqK bitte den Link kopieren und weiterleiten erwünscht :-)
PS: Sollte jemand bei Youtube sein darf er sich gerne mich abonnieren ,da es regelmässig Updates geben wird!Schreibt gerne drunter ein Kommentar wenn Euch der Artikel gefallen hat.---stay Tuned !!!

Hello guys, today is Sunday again and the weather is rather tired, so it is fitting that I now activate my Youtube channel for Jens Falcone music and connect with the other social media. Another social media account? Another channel? Why is that important? Does it have to be that way?
Also, as I've read, I can search his "music channel account" as an artist ad, see here at Youtube https://artists.youtube.com/ My decision is that the man with the first access to a YouTube as an artist is on Youtube as an artist. I will also follow other reports in more detail. I added here to share my most important tracks in a playlist https://www.youtube.com/playlist?list=PLxq1pmmXwIx_qvzieEyh9dkrv3Y6lIjqK please copy the link and forward it :-) PS: Possible person on YouTube, he is welcome to subscribe to me, as there will be regular updates! Feel free to leave a comment below if you liked the article --- Stay Tuned !!!